Expert Roof Leak Detection Specialists
Our testing services portfolio consists of a range of robust leak detection testing methods all designed to detect and identify almost any form of building envelope and roof defect. Coupled with 40+ years industry experience and extensive service reports, we are the ideal candidate to provide you with excellent advice, leak detection services and detailed condition reports.
Our expert team test flat roofs, green roofs, metal roofs and tile roofs among others, and we can save new and existing clients up to 95% in cost with our De-Watering Vacuum (DWV®) service, compared to total roof replacement.
Our leak detection services for roofs include: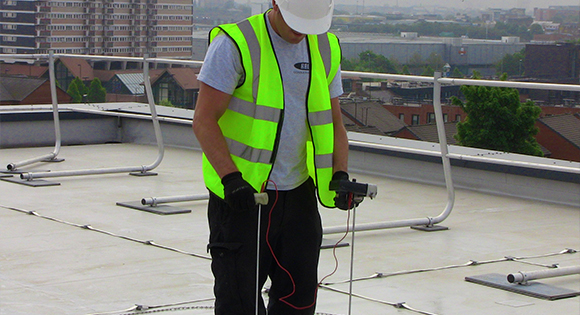 Problems with roofs can be costly and disruptive, but RAM Building Consultancy can identify problems quickly, offering expert tailored advice on repairing any issues. Having tested a diverse range of flat roofs on airports, museums and hospitals, our roofing specialists are experienced in finding pinhole leaks fast, whilst you're always guaranteed non-invasive methods – we use the most appropriate testing methods for commercial, residential and industrial properties.
We've tested complete building envelopes to detect various leaks, dampness and other defects, and our roofing specialists can provide you with a suitable recommendation in a cost effective and timely environment. You can learn more about our complete range of services by getting in touch with a member of our team today on 0844 335 1822. Alternatively, feel free to contact us via email at [email protected] and a member of our team will be in touch as soon as possible to discuss your requirements.